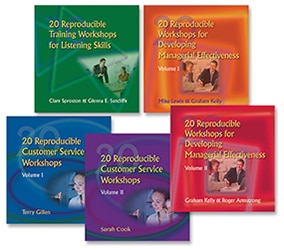 Collection of 100 Workshops for Every Need
For many professional skills and competencies, this 5-volume set can start you in the right direction or complete
existing programs that lack a key skill. You get 100 workshops that range from 1 to 3 hours in length.
163 Reproducible Questionnaires
For virtually every skill or competency, this 4-volume set of e-files has a questionnaire or inventory that can kick-off
training with a needs assessment for virtually any skill or topic. You get 163 different questionnaires.